373 veces visto
With Rwanda as the host country and a record participation
With world-class speakers, including sustainability expert Professor Jeffrey Sachs, who proposed a multidimensional index as a baseline, the foundation was laid to move in that direction.
In addition to the speakers, the Forum had over 3,330 registrants from 67 countries, confirming a great interest.
Bogotá, July 15, 2021 (FNC Press Office) – In its third edition, held for the first time virtually with Rwanda as the host country, the World Coffee Producers Forum (WCPF) today laid solid foundations for advancing towards prosperity of coffee growers in the world, going beyond simply ensuring them a vital income.
"Vital income should be – if you want – a stopover on the road to prosperity of coffee growers," said Juan Esteban Orduz, director of the Colombian Coffee Growers Federation (FNC) in the USA and chairperson of the WCPF.
"The goal should not be static to just get producers out of poverty, but much more ambitious: to create, along the whole chain, structural conditions in producer countries and the market for real coffee farmers' prosperity, for their steady progress, ensuring that the next generations will be able to continue producing coffee and prospering as well," he added.
To this end, national coffee farmer prosperity plans will be drawn up and presented in 2022, in Kigali, Rwanda, on the tentatively in-person meeting scheduled as the second part of this third edition.
At the beginning of today's meeting, with Claude Bizimana, CEO of Rwanda's National Agricultural Export Development Board (NAEB) as moderator, the Rwandan Minister of Agriculture, Gerardine Mukeshimana, and former Ethiopian Prime Minister Hailemariam Desalegne highlighted that the Forum now is focusing on creating the structures for achieving coffee farmers' prosperity.
Jose María Figueres, former president of Costa Rica, underlined the importance of research and technology, such as developing resistant and more productive varieties to face common challenges such as climate change and poverty in the coffee sector.
Construction of a multidimensional index

The FNC CEO and leader in creation and development of the WCPF, Roberto Vélez, on behalf of Colombian coffee growers, was pleased with the Forum's commitment so that the world's coffee growers not only overcome poverty but become prosperous.
"What has been clear for a long time is that producers must have a decent income from generation to generation. That is why we are here today, working to achieve this goal," he said.
He gave way to the keynote speaker, Professor Jeffrey D. Sachs, whom he introduced as a reference in the coffee world for understanding the roadmap and this new prosperity concept.
After reminding of the UN Sustainable Development Goals (SDGs), Sachs proposed drawing up a multidimensional index map in the coffee regions that serves as a starting point, as a baseline, to prioritize actions and improve the living conditions of producers.
This index includes variables such as income, health care, internet access, education, food security, drinking water, basic sanitation, electricity, and vulnerability to climate variability.
Working with other international organizations, which includes bringing coffee issues to bodies such as the UN Food and Agriculture Organization (FAO), important progress will be made, Sachs said.
Shared responsibility of the whole chain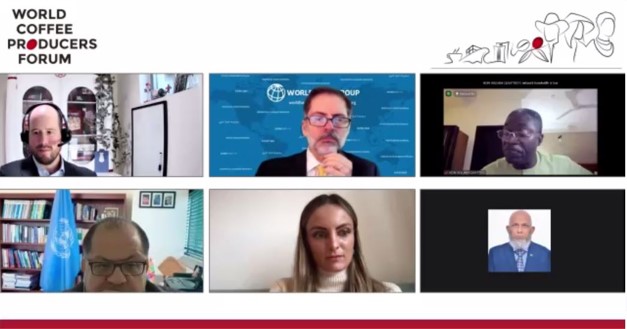 As another key point of the day, in the panel discussion on coffee grower prosperity, the importance of fair prices paid by other actors in the chain was highlighted.
Benefits must be shared in the supply chain, said Ines Burrus, CEO of the consulting firm Burrus Development, also highlighting the importance of connectivity and traceability to improve prosperity of women coffee growers.
Contributions by international donors and agencies are also an important source of financial resources to carry out development projects for the benefit of coffee growers.
Carlos Felipe Jaramillo, Vice President for the Latin America and the Caribbean region of the World Bank, stressed the need to address challenges of the coffee sector in a sustainable and multidimensional way, a goal for which the environmental pillar is also of great help, since agroforestry and environmental services play a key role and entail potential complementary income for producers.
Models of organizations or partnerships, with strong funding of "green" issues and to fight climate change, can more easily help obtain resources.
Support of governments in public policy aspects for developing the coffee sector is essential, so the World Bank wants to support financing, focusing on small producers.
Finally, Luis Felipe López-Calva, UN Development Program (UNDP) regional director for Latin America and the Caribbean, reminded that national social protection systems are a welfare buffer, a minimum floor, for coffee growers.
"Once again, let's think about coffee growers, because they are the backbone of our industry," was one of the final comments.