1172 veces visto
Nearly 18% of estimated harvest in the second half of 2015 will be compromised in one way or another by poor rainfall.
Bogotá, September 18, 2015 (FNC Press Office) – A thorough analysis by the Colombian Coffee Growers Federation's (FNC) Extension Service on the impacts of El Niño on coffee farming found that the event has significantly affected all of the country's coffee production areas.
According to Roberto Vélez, the FNC CEO, "Nearly 18% of estimated harvest in the second half of 2015 will be compromised in one way or another by poor rainfall."
Coffee grower representatives from different regions also expressed their concerns about unit cost increases caused by El Niño, particularly worried about an estimated 50% increase in labor costs from increased pest control and a 40% efficiency reduction in harvesting and processing of cherries into dry parchment coffee.
"Coffee growers are seeing their costs go up and their income do down. This will remain true in both this half and 2016. If El Niño's intensity is as predicted, we'll be dealing with a complex situation in income and production costs," Vélez noted.
Effects of El Niño on coffee farming
El Niño is a meteorological phenomenon that occurs when surface temperature of the Pacific Ocean is at least 0.5°C above normal average for three consecutive months, significantly reducing rainfall and soil moisture in the Colombian Andean region (especially in sun-grown coffee plantations).
El Niño's impact on coffee farming varies from region to region. In high-rainfall and low-sunshine areas, the event can increase coffee production. However, this is not the case in warm areas – with low moisture retention soils – and regions with less than 1,500 mm of annual rainfall.
Areas below 1,300 masl with average temperature above 21.5°C are more likely to be hit. Water deficits caused by the event hamper coffee tree development (especially young ones) and reduce production, quality, and coffee growers' average income.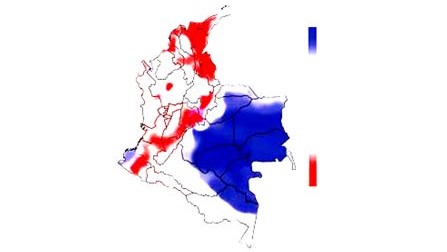 El Niño also favors CBB and other pests, requiring more maintenance whose high labor costs drastically reduce the crop's profitability.
The FNC and its Departmental Coffee Grower Committees have closely monitored El Niño and suggested different measures to help coffee growers be better prepared.
"We are intensifying our campaigns to encourage producers to take measures such as smart weeding, shade-grown coffee, fertilization, integrated pest management and, in extreme cases, avoiding new plantings," Carlos A. Uribe, the FNC Chief Technical Officer, said.
The FNC will recommend the Colombian government take different initiatives to support coffee growers affected by El Niño.